As the title says, I watched The Greatest Showman… I went into it not expecting historical accuracies due to the previews I saw and knowing it was a musical. I assumed they had taken artistic liberties, and boy, did they take some liberties.  But I still watched it with the thought I could like it. And as the credits wrapped up, that was not the case. It was like when I read Prince Caspian and then watched the movie. So much was changed in the movie that it was almost a different story, but not a good one. For me, that is how it was with The Greatest Showman, Barnum's life and story is so interesting that the story in the film fell short for me. The film depicted a much more likable Barnum who uplifted his performers rather than exploited them.
So, I am going to just go through and discuss some of the inaccuracies in the film, do not worry I am not going to focus on small details but on the larger overall story.
**Side note I always felt like Jim Broadbent should have played PT Barnum because I think he looks just like the real-life Barnum. If you do not know who Jim Broadbent is, please look him up!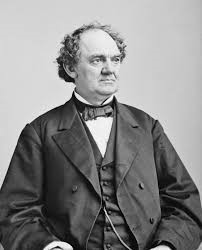 (PT Barnum)
 LETS BEGIN!
Museum & Exhibits:
In the film, Barnum begins his work in show business with the purchase of the Barnum's American Museum. This is not the case, Barnum worked in traveling shows prior to acquiring the museum in 1841 when he purchased the Scudder's American Museum at Broadway and Ann Streets in New York. One of Barnum's most notable exhibits prior to 1841 was of Joice Heth. (1)
Joice Heth was an enslaved African American  women, who was owned by Coley Bartram and his partner R.W. Lindsey. Bartram and Lindsey put Heth on display attempting to pass her off as formerly being enslaved to Augustine Washington and cared for George Washington as a baby and child. The tour had minimum success, with Bartram already sold out to Lindsey, Lindsey was desperate to sell his share as well. Barnum was interested in Joice Heth and purchased her in the summer of 1835 for $1000. (2)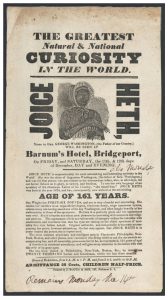 (Broadside for Joice Heth)
Barnum's exhibitions of Joice Heth brought in a profit by him creating doubt of whether or not she was actually enslaved to Augustine and cared for George Washington. This stirred desire in the public to visit the exhibition to inspector Heth, and try and determine for themselves whether or not she was who she claimed to be. These questions did not remain a mystery – on February 25, 1836, after Heth's death, Barnum had Dr. David Rogers perform an autopsy on Joice Heth, in front of 1500 people who paid fifty cents each to determine whether or not she was in fact 161 years old. The autopsy determined that Heth was not 161 years old, but barely 80 years old. (3)
Returning back to the museum, entertainers had previously worked at the Scudder Museum prior to its sale to Barnum and becoming the Barnum's American Museum. Since the Peale's Museum had many of the same exhibitions, Barnum had to work on creating his own reputation. Barnum acquired new performers by reaching out to Moses Kimball, manager of the Boston Museum. While they were competitors their talents complemented each other, Barnum with advertising and Kimball with acquiring performers, that they worked together. (4)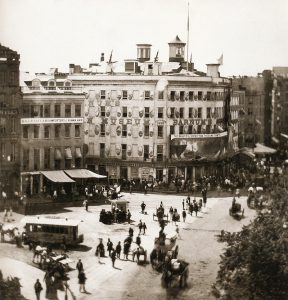 (Barnum's Museum c. 1858)
In 1842, the Peale's Museum in New York almost closed due to outdated exhibits that made it impossible to compete with Barnum's museum. Barnum felt that competition generated more profits for his museum, and instead of watching the Peale's Museum close, Barnum quietly purchased it for $7000 and hired a manager to run the museum. The exhibits in the Peale's Museum copied those of Barnum's museum, while also advertising his museum. (5)
Family:
A lot of filler went into the story of Barnum and Charity in the film. Barnum was incredibly private about his personal life, unfortunately not much is known regarding their relationship. Charity and Barnum married on November 8, 1829. Together they had four children, Caroline on May 27, 1833, Helen on April 18, 1840, Frances on May 1, 1842, and Pauline March 1, 1846. On November of 1873, Charity died of failing health. Since Barnum was in Germany at the time purchasing animals, he was unable to attend her funeral. Prior to returning to America, Barnum went to London to mourn for several weeks. While in London, he visited his friend John Fish and his daughter, Nancy Fish. On September 1874, Barnum married Nancy who was 40 years younger than him. They were married for 17 years, until Barnum's death on April 7, 1891. (6)
Miscellaneous Item:
Here is information I did not know where to put. No, Barnum and Jenny Lind did not have a relationship.
Circus & Final Years:
Barnum's museum did in fact burn down, once in 1865 and again in 1868. After the burning in 1868, Barnum left the museum industry and went on tours and organized attractions that he sent to England. Barnum went fully into the circus industry in 1870, at this point he was 60 years old. In 1870, he formed a circus with W.C. Coup and Dan Castello, called "Barnum's Grand Traveling Museum, Menagerie, Caravan, and Circus." Shows were referred to as "The Greatest Show on Earth." Barnum became sole owner in 1875. In 1881, James A. Bailey and James L. Hutchinson partnered with Barnum and renamed the circus to "Barnum & Bailey Greatest Show on Earth." The partnership lasted 6 years, before Baily and Hutchinson took over full ownership in 1887. On April 7, 1891, Phineas T. Barnum died after a year of failing health. A year or so prior to his death, Barnum was struggling with poor health. When it became obvious that Barnum was not going to recover, "To cheer him up, the New York Evening Sun printed some obituary notices, giving him the chance to see what his career would look like to the newspaper readers."(7) Barnum was buried at Mountain Grove Cemetery in Bridgeport, Connecticut. (8)
Final Thoughts:
There is a lot more to Barnum's life than what I touched on. He also had a political career that I nor the film mentioned. As I previously wrote, I was fully prepared to like the movie, while also expecting a gratuitous amount of historical inaccuracies. Even going in with low expectations, I could not ignore the historical inaccuracies and it left me with wanting a deeper look at Barnum's work and at the performers. And also, a more accurate representation of Barnum than one that the script presented. If anyone knows of a historical accurate film or miniseries of Barnum's life, please send it my way!
(1) Neil Harris, Humbug: The Art of P.T. Barnum, (Chicago: The University of Chicago Press, 1973), p. 39-40
(2) Ibid., p. 22-23
(3)Ibid., p.22 – 23; "Dissection of Joice Heth — Precious Humbug Exposed, New York Sun, February 26, 1836," Lost Museum Archive, https://lostmuseum.cuny.edu/archive/dissection-of-joice-heth-precious-humbug
(4) Neil Harris, Humbug: The Art of P.T. Barnum, (Chicago: The University of Chicago Press, 1973), p. 41-42
(5) Ibid., p. 42
(6) Ibid., p. 14, 196; "PT Barnum family, 1850 census," Wikitree, https://www.wikitree.com/photo/jpg/Barnum-190-2; "Frances Irena Barnum (1842 – 1844)," Wikitree, https://www.wikitree.com/wiki/Barnum-185
(7) Neil Harris, Humbug: The Art of P.T. Barnum, (Chicago: The University of Chicago Press, 1973), p. 276
(8) Ibid., p. 117-120, 192, 195, 233-236, 276 ; "PT Barnum Biograph (1810 – 1891)" Biography, https://www.biography.com/business-figure/pt-barnum
Images: WikiCommons