I have five different writing projects that I am currently working on and instead of getting the number down to four or three I want to distract myself by writing a new blog. Nationalism and sometimes ignorance have caused society to look at historic figures through godlike lenses. But individuals of the past were just that – people. And no one is perfect, people screw up, make mistakes, and do things that seem odd or different to others. Historical figures are no different – and while we work through this incredibly difficult time during the pandemic, I thought it would be good to share some interesting historical information! So here we go!
George Washington:
At the age of twenty-one George Washington accidentally started the French Indian War, also known as the Seven Years' War. Washington was blamed for causing the war due to him leading an army into a battle against the French during time of peace and unprovoked. While we all make poor decisions in our early twenties most of us can say our mistakes do not lead to a war. (1)
Although, Washington has redeemed the mistakes of his youth with his leadership in the American Revolution, he still struggled with his standing within some aspects of his life. This struggle transpired from his inability to successfully grow tobacco.
Historian, T.H. Breen, described the relation of Virginia planter to tobacco as:
'…It is because money does, in this hardly unmaterialistic society, matter and matter very much that the more of it one risks, the more of a lot of other things, such as one's pride, one's poise, one's dispassion, one's masculinity, one also risks, again only momentarily but again very publicly as well.' And it was precisely because tobacco mattered in Virginia society so very much that it became in the eye of the major producers a measure of self, a source of meaningful social identity, as well as a means to maintain a high standard of living. (2)

Criticism of a man's tobacco, however tactfully phrased, set off frenzied self-examination. Whenever planters received a low price, for example, they assumed that somehow they must be at fault. Their reaction was almost reflexive. The problem, they reasoned, must have been in production, in the management of the labor force-in other words, in themselves-and they usually accepted responsibility for the poor showing of their tobacco in the British market. (3)
Tobacco plants were equivalent to one's masculinity, position in society, and success. Washington's failure to produce large tobacco leaves affected his own perception of himself that led him into a depression and eventual anger before reluctantly moving onto a different crop. (4)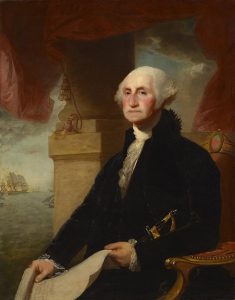 Benjamin Franklin:
Benjamin Franklin – brilliant man who was involved in print, politics, and science also had his own personal ways he liked to live. One thing he thoroughly enjoyed were air baths. Although cold baths were popular in London, Franklin felt they were too "violent" and instead favored a cold air bath. This was done by undressing and sitting in the cold air. In a letter to M. Dubourg on July 28, 1768, Franklin wrote:
I have found it much more agreeable to my constitution to bathe in another element, I mean cold air. With this view I rise almost every morning and sit in my chamber without any clothes whatever, half an hour or an hour, according to the season, either reading or writing. This practice is not in the least painful, but, on the contrary, agreeable; and, if I return to bed afterwards, before I dress myself, as sometimeshappens, I make a supplement to my night's rest of one or two hours of the most pleasing sleep that can be imagined. I find no ill consequences whatever resulting from it, and that at least it does not injure my health, if it does not in fact contribute much to its preservation. I shall therefore call it for the future a bracing or tonic bath. (5)
Benjamin Franklin was also the cousin of abolitionist and suffragist Lucretia Mott who was a traveling Quaker minister. Mott's work included giving speeches and she was one of the women who started the Philadelphia Female Anti-Slavery Society. (6)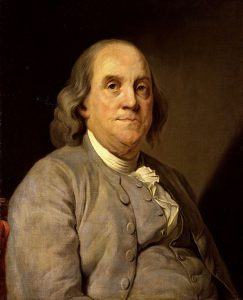 Sojourner Truth:
Prior to becoming abolitionist and suffragist Sojourner Truth, she was Isabella Baumfree. After becoming free, her search for a religion and community led her to a small religious group in Sing Sing, New York – known as the Kingdom of Matthias. There she witnessed the leader, Matthias, and his small following, swap wives and fall into despair as men had to watch Mathias seduce and take their wives as his own. The kingdom fell when one of the followers, Elijah Pierson, was murdered by poison. Matthias and Baumfree, who worked as Matthias' servant, were accused of his death. Both went to trial and were acquitted of the charge. From there, Matthias traveled to Joseph Smith, the founder of Mormonism, in Ohio. After some discussion, both disagreed with the other's religious views and Matthias traveled on. Eventually, he was committed to a mental hospital in New York. After Baumfree was acquitted, she began traveling and renamed herself Sojourner Truth – giving speeches on abolitionism and women's rights and joining the movements. She spoke alongside Lucretia Mott and discussed her views with Abraham Lincoln, and other large figures of the nineteenth century. (7)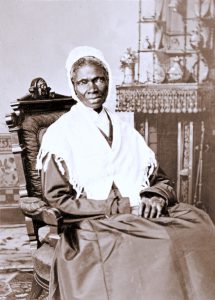 (Absolutely, my favorite picture of Sojourner Truth!)
Charles K. Landis:
I had to include the founder of my hometown, Vineland, NJ in this list! Landis was a Lawyer from Philadelphia, who in addition to finding Vineland also found Hammonton, Landisville, and Sea Isle. The Vineland Historical and Antiquarian Society was formed three years after Vineland was founded and the building in which the Society exists today was built for the purpose to be a historical society and is the oldest in the state. Landis was a lifetime member of VHAS. He also wrote his own science fiction book, that VHAS recently published a couple of years ago. In addition to finding Vineland and his book, Landis found himself on the wrong side of the law after Landis shot Uri Carruth, editor and publisher of the Vineland Independent newspaper, in the back of his head. After Carruth printed negative reports about Landis and his wife – which Landis blamed for her deteriorating mental health. Unfortunately, Carruth died of his wound several months later, and Landis was charged with murder. Landis pleaded not guilty due to temporary insanity and was acquitted. Landis regretted his action, stating "I have killed him, I am sorry; I did it in the case of God and humility; oh, my poor crazy wife." (8)
Sources:
(1) "George Washington was a raw and ambitious 21-year old when he was first sent to the Ohio Valley to confront the growing French presence in the region. His actions sparked the French & Indian War" Mount Vernon https://www.mountvernon.org/george-washington/french-indian-war/ten-facts-about-george-washington-and-the-french-indian-war/ (accessed 4/28/2020)
(2) T.H. Breen, Tobacco Culture: The Mentality of the Great Tidewater Planters on the Eve of Revolution, (Princeton: Princeton University Press, 1985),
(3) Ibid., p. 72-73
(4) Ibid., p. 80-82
(5) Letter from Benjamin Franklin to M. Dubourg (July 28, 1768) published in The complete works of Benjamin Franklin; including … v.4. Franklin, Benjamin, 1706-1790, HathiTrust, https://babel.hathitrust.org/cgi/pt?id=hvd.hwb4bw&view=1up&seq=218 (accessed 4/28/2020)
(6) Carol Faulkner, Lucretia Mott's Heresy: Abolition and Women's Rights in Nineteenth-Century America, (Philadelphia: University of Pennsylvania Press, 2011).
(7) Paul E. Johnson and Sean Wilentz, The Kingdom of Matthias: A Story of Sex and Salvation in 19th-Century America, (New York: Oxford University Press, 2012).; Gilbert Seldes, The Stammering Century (New York: John Day, 1928) p. 125.
(8) Vineland Historical and Antiquarian Society, https://discovervinelandhistory.org/; Eileen Bennett, "Jury finds Charles K. Landis innocent by insanity of killing newspaper editor" Cumberland County New Jersey, http://www.co.cumberland.nj.us(accessed 4/28/2020)
**All the images used are from Wiki Commons and are public domain.**