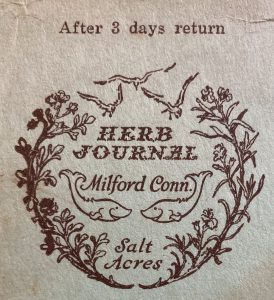 This past year, like many millennials in their 30's, I have accumulated over twenty house plants. I have also become interested in the different uses of herbs and have made three different salves and candles. I was excited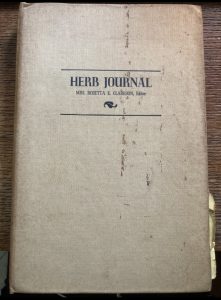 when I stumbled upon a collection of herb books from c. 1930s-1940s. Two of them were by Rosetta Elizabeth Clarkson (nee. Shear), Herbs: Their Culture and Use and Herb Journal. The Herb Journal belonged to Beryl Allen from Florida and is particularly interesting as it consists of a note from Carkson in it and journals from 1936-1939.
Who was Rosetta Elizabeth Clarkson?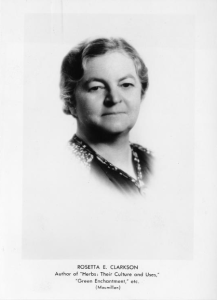 First, who was Rosetta Elizabeth Clarkson? Clarkson was born in Orwell, NY in 1892. In 1914, she graduated from Vassar College in Poughkeepsie, NY, where her collection is currently housed. After graduation, she became a high-school teacher, before going to Columbia in the early 1920s for her Master's. While studying Henry Porter, an Elizabethan dramatist, Clarkson became very interested in herbal uses and practices. Clarkson and her husband, Ralph C., moved to Milford Connecticut where she devoted all of her time to herbs. They grew over 300 herbs at their home, known as Salt Acres, held tours and lectures, and distributed seeds to commercial gardeners and to private individual growers at no cost. In addition to the Herbs: Their Culture and Use, Clarkson also wrote Green Enchantment: The Magic and History of Garden Making, Magic Gardens: A Modern Chronicle of Herbs and Savory Seeds, Herbal Journal, and The Golden Age of Herbs and Herbalists. She also published reprints of gardening and herbal books through the Herb Lovers Book Club that she founded. In 1950, Clarkson died at 58 or 57 years old. (1)
Who was Beryl Allen?
Beryl Allen who owned the Herbal Journal may have been Beryl Nyome Allen (nee. Reininger). Allen was born in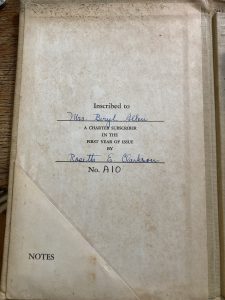 Iowa on June 8, 1889. On March 20th, 1909, she married Fortis Alonzo Allen. There is a bit of confusion over how many children they had, but it appears they may have had eight kids. In no particular order, their children were Doris, Helen, Dorothy, Vera, Kathryn, Hope, John Robert, and Fortis Alonzo Jr. Roughly around 1930-1940, the family moved to Perry, Florida. Allen died on February 24, 1973, at 83. Beryl Nyome Allen is buried at Woodlawn Cemetery. (2)
What was the Herbal Journal?
Rosetta Elizabeth Clarkson published the Herb Journal from 1936 to 1939. Each month, the journal was distributed to two thousand plus people at no cost. The journal is hardcover with pockets for notes and clippings. The periodicals are loose and tucked into the Herb Journal.
About now we all envy your (?) in Florida

Your name is on our permanent list and I do hope that by now you have the binder and back vos. This is a hobby pure and simple and we have no office force so we are a little slow in keeping mail up to date. Aside from the Journal we have about 500 personal letters per month with various requests and, too, the Journals have to be written as well as mailed. Best Wishes! Rosetta Clarkson.
In addition to the card and journals, there were other miscellaneous documents, and newspaper and article clippings. One item is a write-up on growing aromatic herbs by William Renwick Beattie, senior horticulturist of the Division of Fruit and Vegetable Crops and Diseases of the United States Department of Agriculture Bureau of Plant Industry. The form was written in 1933 and consists of a list of a variety of herbs with information on their uses.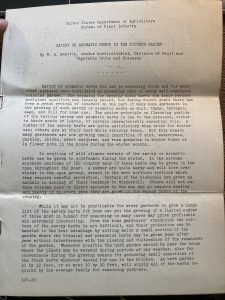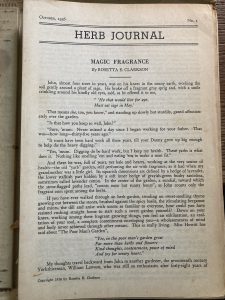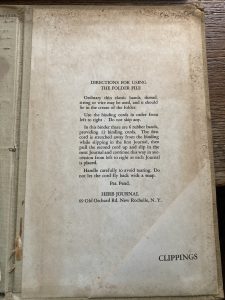 I picked this journal out of a box of used books from people who had once lived in the area. I am always amazed and intrigued at how items continue to travel after their owners' passing – at how things continue to live. In a way, I feel that it is fitting that it is in my care as I have grown a connection with my own plants, cheering them on as they grow and becoming sad when I cannot save them. I hope it enjoys its spot, on the shelf near my baby plants as it continues to move through time.
Sources:
Photo 3: Rosetta Elizabeth Clarkson, Smithsonian Institution Archives.
(1) "Rosetta Shear Clarkson," Vassar College.
(2) "Beryl Nyome Reininger," FamilySearch.