As I wait on a book for the second part of the Trall blog, I have decided to share some news – I have begun writing a book on nineteenth-century brothel guides. I honestly did not think this research would become a book, I could not see it grow into something more than my Commonplace article, "Influences of the Underworld: Nineteenth-Century Brothel Guides, Calling Cards, and City Directories" (2022). After that article was published, I took a break from my brothel guide research that I had been doing since roughly 2015. But now looking at the date, it has only been about a year and a half since it was published, so not too much of a break was had, haha.
Initially, I was thinking of putting together a book proposal first but ultimately decided to worry about it after the book is finished. This book is a passion project and one that I want to completely enjoy before I have to be concerned about selling it to a publisher. Also, due to working full time and working towards my MLS, I do not want to be worried about external deadlines.
I have created flexible deadlines for myself to help keep myself accountable. Sharing blog updates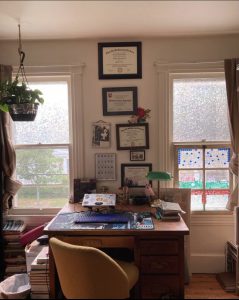 on the process will also help as another layer of accountability. The deadlines are:
Introduction: Wrap up Intro By September 1st

Finish Chapter 1 by December 2023

Finish Chapter 2 by May 2024

Finish Chapter 3 by September 2024

Finish Chapter 4 by December 2024

Finish Chapter 5 by May 2025
After the 5th chapter, I will see where things are at and how I want to move forward.
Current Book Update
I started the book by creating a rough outline that I will use as a roadmap. After the outline was written out, I began handwriting my introduction in a notebook that I purchased for this project. After writing an incredibly rough introduction, I jotted down notes of sources that I wanted to expand upon and related topics that I wanted to unpack within the introduction. Additionally, I went through a source that was closely related to the topic of my book and wrote down quotes from the book that I wanted to use in this section to aid in making a connection.  After that, I handwrote a bit more of the introduction before moving to my laptop.
I typed out what I had handwritten and wrote a bit more. I have also moved some things around and have rewritten how the introduction begins. More sources were also introduced and how their analysis has played a role within my own research. My goal for the introduction is roughly 10,000 words or 20 pages in single-space. Currently, the word count is 1120, so I have a bit more to do, but it is exciting to see the foundation slowly begin to form.
Fall Goal & Conclusion
My goal for the fall is to write at least 100 words a day to help ensure that progress is being done and to make sure that I am taking time for myself with school and work. Even if the daily writing is rough, it will give me something to form and edit as I move forward. I am excited about this project, and I am particularly looking forward to writing at my desk on cold winter days with a nice cup of courage tea!
Thank you for reading & have a magical day!